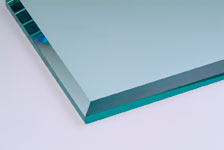 BEVELLING
Bevelling is the method by which a piece of glass is being bevelled on the edges of one of its sides. When the bevels are exposed in the sunlight they become prisms, offering a spectrum of colours that highlight the glasswork. We can obtain bevelling in both geometrical and abstract glass's shapes due to our advanced machinery. Our bevelled products can be decorated on windows, doors, tables, kitchen cabinets and walls. We also process them in combination with patterned or coloured glasses to create interesting visual effects and interior designs.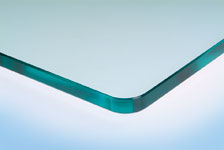 EDGEWORKS
For safety and/or decoration, edgeworks can be performed for straight lines, circles or abstract shapes, due to the availability of the latest edgework glass machines.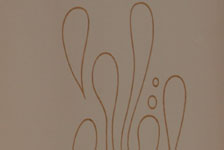 SANDBLASTING
Sandblasting is the spraying of sand at high velocities over the surface of the glass. The result is a translucent surface with a frosted appearance. The preparation of the designs and the sandblasting are both executed by computer-guided machines. This allows the etching of the glass with the accuracy of a millimetre and hence the creation of perfect designs. With abundant designs from our catalogue your options are endless. Also, we are flexible in processing designs and logos brought in by you but most importantly we can adjust the designs to any glass size. Our sandblasted glasses can be found on both interior and exterior applications such as glass balconies, doors, windows, shower screens, glass partitions, furniture etc.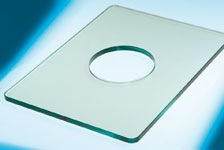 DRILLING
Regardless of the thickness of the glass or the size of the hole needed, the drilling is processed smoothly leaving a perfect finish on the glass.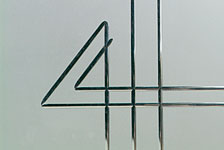 ENGRAVINGS
Engraving is another form of decorative glasswork. The glass is engraved by a technologically advanced computer-guided machine which ensures the accuracy of depth and angle along the surface of the glass. In addition, it has the capabilities of replicating designs on different glass sizes and, creating both mat and clear engravings, according to the customer's preferences. Engraving can be applied on any type of glass (float, laminated, painted, mirrors) and in combination with coloured, sandblasted or patterned glass for exquisite glass creations.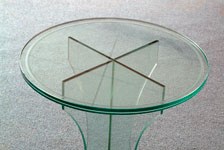 GLASS BONDING
We use this method to bond together two or more pieces of glass that eventually have very strong endurance but loose nothing from their transparency. In this way, we produce various glass furniture of unique beauty such as tables, stands, desks, shelves etc. Furthermore, we can bond glass with metal (stainless steel) for those who enjoy mixing of materials in their space. Lastly, our glass-metal products can be combined with wood for furniture that surprise with their finesse and stylishness.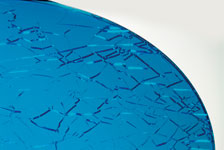 CRACKED LAMINATED
This is the production of a laminated type of glass that is consistent of three layers with the one being cracked. This creates a glass with a stunning inner pattern which is extremely difficult to break. So, with its characteristics being both decoration and safety it can be put on windows, doors, it can be used as the top of a table or even as a floor.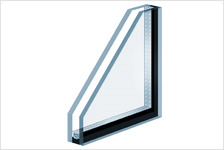 DOUBLE GLAZING
Double Glazing usually refers to two panes of glass enclosing a hermetically closed air space. Variation in the thickness of the two glasses, their type and the thickness of the spacer between them, affects factors such as the degree of thermal insulation, soundproof and safety provided by the double glazing. At Shikkis Bros the production of Double Glazing is executed at maximum speed due to our experienced personnel and our advanced machinery such as:
• The largest and most advanced single glass cutting line in Cyprus; glasses are cut fast with the accuracy of a millimetre
• The latest laminated glass cutting machine; no delays in the production pace from cutting the PVB interlayer
• Our large glass washing machine; glasses are cleaned in large batches.

Learn more about Double Glazing